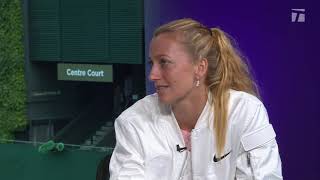 thanks so much for joining us here on the rocket tennis channel desk and our 9 today over Magda Lynette you never faced a break point really good on serve pretty happy with this day
Petra Kvitova:
yeah it was my best match which I played here it's nice to get better every match which I played and yeah from the first point and it was felt great I played progressively and I served more well as well so it was a big help today.
Interviewer:
the record on grass doesn't just speak for itself it screams you love the stuff take us a little deeper what what is it about grass that appeals to you so much.
Petra Kvitova:
yeah I do I love it I think especially here in Wimbledon I mean of course I have it to Titleist here so it's that's makes it very special for me I think my my game is pretty sitting on the on the grass I'm playing pretty
phat
aggressive shots you know being left-hander on the grass with us through the good so it's always a big help as well so I'm enjoying it and I like to move on it as well so I really liked.
Interviewer:
it's hard to believe that it was eight years ago when you won this tournament for the first time you were 21 just a baby there's the story that when you were on your way to your champions press conference they stopped you in the hall because they thought you were somebody else and someone had to say no no she's the champion she's allowed to go here did you ever wish you could go back to those days when you weren't such a big global superstar.
Petra Kvitova:
well I don't think so I mean if I do have those experiences which I have right now I would go to back to my 21 and kind of handle it the pressure and everything afterwards a little bit better but on the other hand I'm pretty glad where I am right now and I'm not regretting anything so I'm I'm happy yeah.
Interviewer:
it's like being a global superstar. I want to ask you
talk
a little more about that adjustment cuz we've been talking big story in the u.s. obviously Coco golf and some of the adjustments that she  will have to make what do you know now that you wish you knew when you had this big big moment.
Petra Kvitova:
you know I think I'm kind of person who doesn't like little tension I wasn't really used to be in a media and having kind of the sponsor of things and everything and the pressure came came to me like it was a big one and I put the pressure on myself which wasn't all easy suddenly I thought okay I have to win every meant because I just wanna win but no so I just have to and it's not like that and we sing in the moments and especially how tough it is to kind of handle everything handle pressure handle every match everybody's just going to play you like they have nothing to lose and you know it's it's a bit different and that's I would like to know when I was younger but I think you can only buy those experiences you just have to live it and that's probably what I would I know now.
Interviewer:
some big single stars are playing mixed doubles at this year's Wimbledon Serena's with Andy Murray Venus is with Frances TF o hasta panco is playing if you could pick your dream mixed doubles partner what would it be.
Petra Kvitova:
I couldn't play with Jordan yeah I know I'm not on the one so yeah.
Interviewer:
you came in here with some health concerns you decided it's will more than I've got to give it a go what is it like preparing for an event where it's not about the tennis it's really about help do you think that may have helped you coming in here
Petra Kvitova:
well you know I'm still kind of thinking about the arm for sure I didn't know until the last day before my much if I could apply or now so I'm very happy I made this decision I'm very happy from forearm is still still there without extra pain and we'll see I mean every match just can be in a pain and I have to retire so I'm not checking in like a minute after minute you know sometimes you really don't know and I don't think it's making any difference is I mean if I'm gonna play on the clay a little bit a total different story but I know where else is my my
surface
yeah I love it I'm playing it it's not big rally so it's just about a few shots and that's what I know so everything kind of fits helping.
Interviewer:
it's working we know it was touch and go whether you're gonna come play Wimbledon we're really glad you're here good luck in the second week
Petra Kvitova:
thank you very much.
Interviewer:
two-time Wimbledon champion petra kvitová working on number three back with much more on the saturday in just a moment.