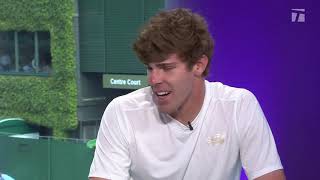 Interviewer:
To Riley up Elko winter today against Cedric Marcella in three sets our 48 main draw Wimbledon debut for you. we know that you won the juniors here you're pretty happy with your your debut at the club.
Reilly Opelka:
yeah yeah today was a great great start great start to the match came out pretty hot broke right away and came out serving really well that continued through through
most
of the match you know yeah my serve really put a lot of pressure on.
Interviewer:
eleven aces today in another era guy like you big serve fresh legs I'd say theoretically could win this we're a different era now there are three guys who were way at the top yeah what is the mentality of a guy like you when three players have done so much winning.
Reilly Opelka:
it's crazy you know I mean I don't think whoever see an era like it you know again I think Roger Novak and Rafa is crazy they all came at the same time it just shows how how dominant they are that really not many guys besides them have won.
Interviewer:
you only hit eleven aces today we obviously know how big your serve is maybe the biggest in the sport but do you take particular pride in winning a match like you won today where you relied as much or even more on other aspects of your game.
Reilly Opelka:
yeah no for sure at this level the ball comes back I mean these guys are such great returners they're so fast so I'm gonna have to get used to the ball coming back a lot more especially playing the top guys.
Interviewer:
I looked at our stage technicians lowered your seat so we actually I'm saying it you can deny it if you want you're seven feet tall. I want to know what challenge does that face I mean what is it like but also what do you have to do differently from other players.
Reilly Opelka:
um there's a lot of challenges I mean just travel days are brutal for me for example I got here I started off in Eastbourne last week off the plane first practice and my back my back was like locked took me a while to warm up to loosen up and that's just from you know not being comfortable on the airplane don't really yeah for sure yeah.
Interviewer:
well we were that we were talking about it before you know
NBA
teams they have specially fitted planes with the extra so they even have locker rooms where the shower heads are extra high how do you make me jealous.
Reilly Opelka:
ya know it's it's a it's a grind especially here in in England you know the shower heads are like I'm like Duncan.
Interviewer:
are you saying the people in England are shorter than the...
Reilly Opelka:
they definitely designed the showers a long time ago and no but it's a it's different that's the hardest part for me is adapting to the travel days and and the different you know hotels and beds and everything is it makes it makes it tough.
Interviewer:
we saw in Paris or your trainer Gary Kitchell was saying they're special exercises loosen up I match that's not the
most
fun part okay.
Reilly Opelka:
no it's not we do a lot of I call boring exercises that's like don't feel like I'm doing anything so it's easy for me to lose focus but at the end of the day that's what what keeps me healthy.
Interviewer:
you you and Taylor Fritz and for that matter Francis T otha all 21 year old Americans I know you and Taylor particularly close your best man in his wedding you both have one of your first titles here this year is it cool for you to be able to go through these experiences the highs and then also the lows with a guy that that is one of your best mates and Anegada you came up through juniors laughs.
Reilly Opelka:
yeah yeah no it's very cool it was really crazy I feel like when Francis did it first and you did you know it's over almost two years a year and a half ago that's kind of when I think I was counting okay I mean I'm not too far off from him and and he you know led the way for us so it is exciting to see those guys do so well like you said guys I grew up with and that are two of my best friends and then.
Interviewer:
thanks for clipping off Taylor's man-bun that was a actually.
Reilly Opelka:
that was yeah that's a good friend.
Interviewer:
right it's a very big Fred Riley up healthy Fred Riley up healthy